TFIX-8P Kołek z wbijanym trzpieniem tworzywowym
Uniwersalny kołek fasadowy wbijany z trzpieniem tworzywowym rekomendowany do systemów ociepleń ETICS
Cechy i zalety
Montaż we wszystkich podłożach (kategorie A, B, C, D, E).
Zastosowanie trzpienia tworzywowego zapobiega transmisji ciepła w punkcie kotwienia (0,0 W/K)
Wstępnie zmontowane elementy łącznika pozwalają na oszczędność czasu i pracy.
Unikalna konstrukcja trzpienia nylonowego wzmocnionego włóknem szklanym umożliwia łatwe i bezproblemowe kotwienie.
Precyzyjna konstrukcja kołka pozwala na osiągnięcie najlepszych parametrów przy zastosowaniu zredukwanej do 25mm strefy kotwienia
Możliwość instalacji z dodatkowym talerzem KWL dostępnym w średnicach 90, 110, 140mm
Informacje o produkcie
Rozmiar

Produkt

Łącznik

Element mocowany

Średnica

Długość

Średnica talerza

Zalecana grubość

d

L

D

tfix A, B, C, D

tfix E

[mm]

Ø8

TFIX-8P-115-2

8

115

60

80

40

TFIX-8P-135-2

8

135

60

100

60

TFIX-8P-155-2

8

155

60

120

80

TFIX-8P-175-2

8

175

60

140

100

TFIX-8P-195-2

8

195

60

160

120

TFIX-8P-215-2

8

215

60

180

140
Materiał bazowy
Beton C12/15-C50/60 (Kat. użytkowa A)

Cegła ceramiczna pełna (Kat. użytkowa B)

Cegła silikatowa pełna (Kat. użytkowa B)

Cegła ceramiczna otworowa (Kategoria użytkowa C)

Cegła dziurawka (Kat. użytkowa C)

Cegła silikatowa otworowa (Kat. użytkowa C)

Bloczki otworowe z betonu lekkiego (Kat. użytkowa D)

Bloczki z betonu lekkiego

Beton lekki

Beton komórkowy (Kategoria użytkowa D)
Zastosowania
Systemy ociepleń elewacji (ETICS)
Płyty styropianowe
Płyty poliuretanowe
Płyty z wełny mineralnej
Płyty z wełny drzewnej
Korek
Instrukcja montażu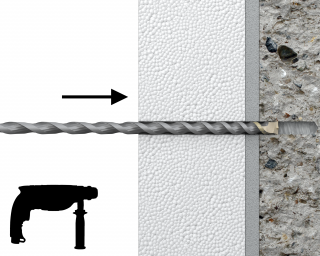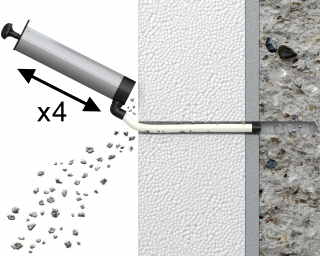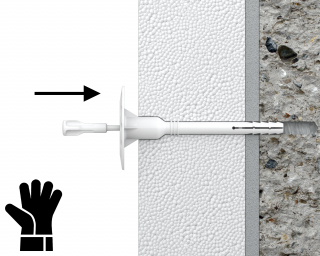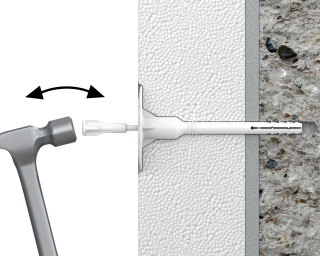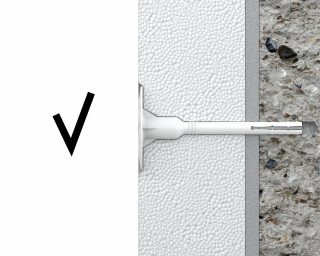 Wywiercić otwór o odpowiedniej średnicy i głebokości.
Przeczyść otwór.
Po osadzeniu kołka w otworze talerz powinien być dociśnięty do powierzchni termoizolacji.
Uderzając młotkiem w plastikowy gwóźdż wbić kołek do nawierconego otworu do całkowitego zrównania się powierchni gwoździa i talerza z powierzchnią termoizolacji.
Głębokość zakotwienia w materiałach pełnych, cegłach otworowych i betonie lekkim to 25mm, 65mm w gazobetonie.
Do zamocowania termoizolacji miękkiej oraz wełny lamelowej zaleca się stosowanie kołka z dodatkowym talerzem dociskowym KWL średnicy 90, 110 lub 140mm.
Dane instalacyjne
Podłoże

A, B, C, D

E

Średnica otworu w podłożu

d0

[mm]

8

8

Min. głębokość otworu w podłożu

h0

[mm]

40

80

Minimalna głębokość osadzenia łącznika

hnom

[mm]

25

65

Min. grubość podłoża

hmin

[mm]

100

110

Min. rozstaw

smin

[mm]

100

100

Min. odległość od krawędzi

cmin

[mm]

100

100

Średnica łącznika

d

[mm]

8

8
Pliki do pobrania
Potrzebujesz dokumentów do innego produktu? Odwiedź naszą bibliotekę techniczną.
przejdź do biblioteki
Skontaktuj się z nami, by poznać cenę i dostępność produktu
Something went wrong... Please try again.
Wypełnij formularz swoimi danymi i wyślij zapytanie o TFIX-8P Kołek z wbijanym trzpieniem tworzywowym
Twoje zapytanie zostanie wysłane do naszego działu sprzedaży. Prosimy wziąć pod uwagę, że nie jest to równoznaczne ze złożeniem zamówienia.