RPP-MORTAR Zaprawa murarska poliuretanowa
Zaprawa murarska poliuretanowa do cienkich spoin
Cechy i zalety
Wysoka efektywność energetyczna - eliminacja mostków termicznych, które nie są pożądane w technologii budownictwa energooszczędnego (λ ≤0,036)
Trwałość wznoszonych murów z rożnych materiałów budowlanych - wysokie właściwości mechaniczne, elastyczność, wytrzymałość wiązania
Wysoka wydajność - do 12 m2 powierzchni ściany z jednej puszki
Wydłużenie sezonu budowlanego - możliwość prowadzenie prac murarskich w temperaturze do -5⁰C
Oszczędność czasu i pieniędzy - bardzo krótki czas realizacji inwestycji, niepotrzebne dodatkowe narzędzia
Szybka i czysta praca - produkt gotowy do użycia, bez odpadów, bez kurzu, bez podnoszenia ciężarów
Materiał bazowy
Beton komórkowy w klasie wymiarowej TLMB

Pustaki ceramiczne szlifowane o wysokiej dokładności wymiarowej

Bloczki silikatowe o wysokiej dokładności wymiarowej
Do stosowania również z
Gazobeton

Beton

Podłoża murowe
Instrukcja montażu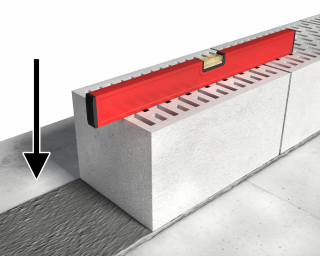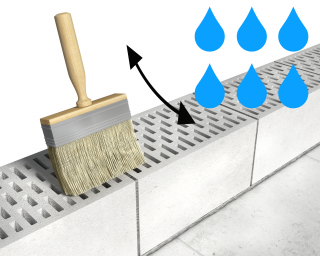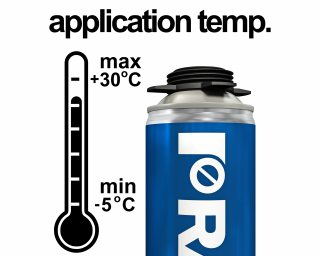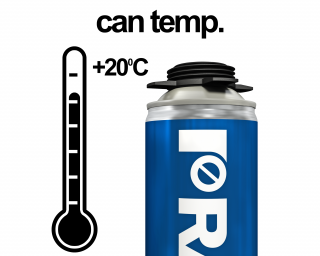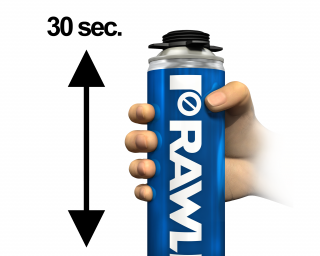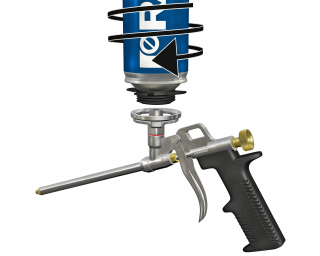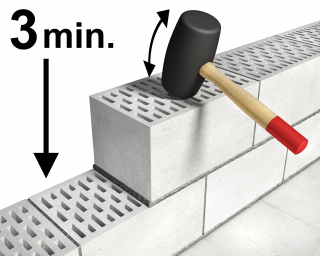 Pierwsza warstwa elementów murowych musi zostać ułożona na zaprawie standardowej cementowo-wapiennej. Założyć rękawiczki ochronne. Podłoże robocze dokładnie oczyścić z środków obniżających przyczepność zaprawy i zwilżyć wodą przy pomocy np. szerokiego pędzla lub spryskiwacza. Mocno wstrząsnąć puszką (przez ok. 30 s).
Optymalna temp. puszki to +20°C. Temp. aplikacji od -5°C do +30°C. Przykręcić pistolet do puszki, pozycją roboczą przy montażu jest pozycja puszki "do góry dnem".
Zaprawę murarską aplikować jednym warkoczem po środku elementu murowego o szerokości do 12 cm lub dwoma równoległymi warkoczami dla elementów murowych o szerokości powyżej 12 cm. Zaprawę nanosić na dłuższy bok elementu murowego w odległości 3 cm od każdej z krawędzi bloczków warkoczem o szerokości ok. 3 cm w przypadku elementów murowych z betonu komórkowego lub ok. 5 cm dla elementów murowych wykonanych z pustaków ceramicznych oraz bloczków silikatowych. Czas dla ułożenia warstwy elementów murowych to 3 min. od zaaplikowania zaprawy. Po nałożeniu elementu murowego należy go docisnąć. Wypoziomować położenie bloczków. Dopuszczalna korekta wynosi nie więcej niż 0,5 cm i można jej dokonać do 3 min od nałożenia zaprawy. Korektę dokonać przesuwając (bez oderwania) bloczków, stabilizować bloczki przy pomocy gumowego młotka.
Nie odrywać ułożonej warstwy elementów murowych. W przypadku oderwania elementu murowego należy nałożyć ponownie zaprawę. W celu eliminacji mostków termicznych aplikować zaprawę na boczne ściany elementu murowego oraz w narożach i połączeniach z ścianami działowymi.
W przypadku przerwy w pracy dłuższej niż pięć minut, oczyścić dyszę aplikatora czyścikiem do pian. Zdejmując pistolet z puszki należy oczyścić dyszę i pistolet czyścikiem.
Pliki do pobrania
Potrzebujesz dokumentów do innego produktu? Odwiedź naszą bibliotekę techniczną.
przejdź do biblioteki
Skontaktuj się z nami, by poznać cenę i dostępność produktu
Something went wrong... Please try again.
Wypełnij formularz swoimi danymi i wyślij zapytanie o RPP-MORTAR Zaprawa murarska poliuretanowa
Twoje zapytanie zostanie wysłane do naszego działu sprzedaży. Prosimy wziąć pod uwagę, że nie jest to równoznaczne ze złożeniem zamówienia.