RM50 Kotwa wklejana poliestrowa bez styrenu z prętami gwintowanymi do betonu
Ekonomiczna kotwa wklejana do betonu na bazie żywicy poliestrowej bez styrenu - zestaw 4 ładunków foliowych, mieszaczy i adapterów do dozownika.
Cechy i zalety
Produkt certyfikowany do aplikacji z prętami gwintowanymi do betonu spękanego i niespękanego (EAD 330499-01-0601), okres użytkowania wynosi do 100 lat
Najbardziej uniwersalna kotwa ogólnego zastosowania
Szybki, pewny i bezproblemowy montaż
Unikalny system bezkartridżowy -miękki ładunek foliowy dla zredukowania ilości odpadów
Łatwe dozowanie dzięki opatentowanemu systemowi samootwierania oraz przy użyciu dozowników akumulatorowych, manualnych lub pneumatycznych
Produkt o szerokim spektrum zastosowań w zakresie obciążeń o średnim stopniu bezpieczeństwa
Idealny do aplikacji, gdzie nie ma możliwości wykonania kotwienia mechanicznego
Nadaje się do wielokrotnego użytku. Produkt częściowo wykorzystany może być ponownie aplikowany po uprzedniej instalacji nowej dyszy.
Materiał bazowy
Beton niezarysowany C20/25-C50/60
Do stosowania również z
Kamień naturalny (po przeprowadzeniu testów)
Zastosowania
Balustrady
Poręcze
Zadaszenia
Ściany osłonowe
Instrukcja montażu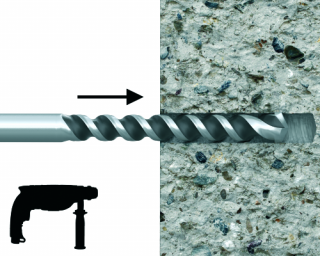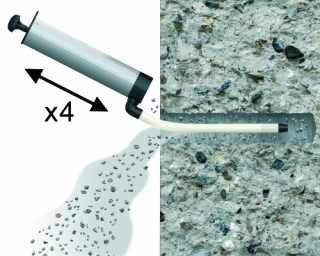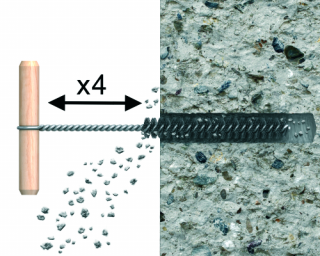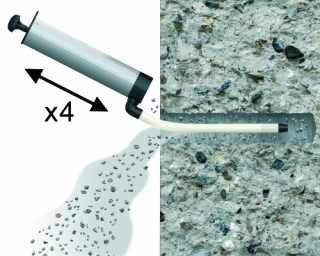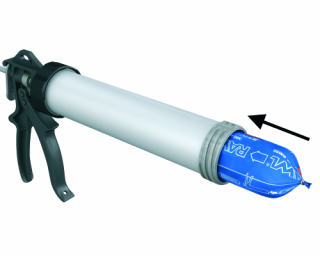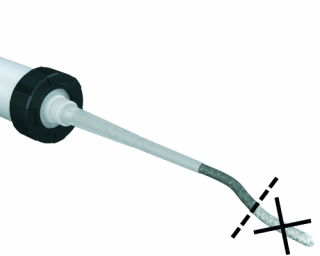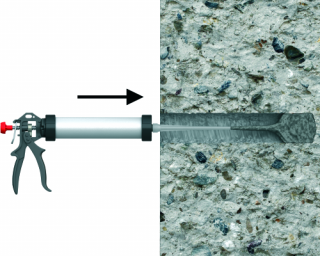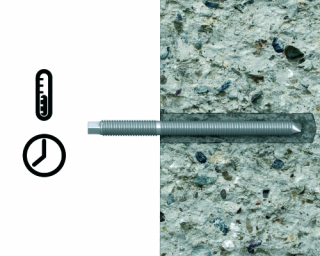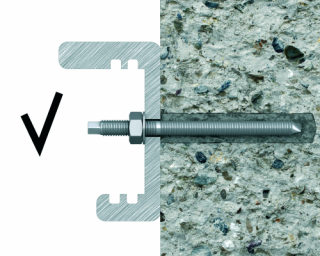 Wywiercić otwór o odpowiedniej średnicy i głębokości.
Usunąć zwierciny z otworu za pomocą czterokrotnego użycia ręcznej pompki oraz wyciora. Są to konieczne czynności przed instalacją
Umieścić ładunek foliowy w wyciskaczu i przymocować dyszę mieszającą
Rozpoczynając dozowanie z nowego opakowania odrzucić część żywicy, aż do uzyskania jednakowego koloru mieszanki
Wypełnić żywicą 70% głębokości otworu, rozpoczynając od dna otworu
Natychmiast po zadozowaniu żywicy ruchem obrotowym umieścić pręt w otworze. Usunąć zbędną ilość żywicy, która wypłynęła z otworu i odczekać odpowiedni czas wiązania żywicy
Dołączyć element mocowany i dokręcić nakrętkę do wymaganego momentu dokręcającego.
Pliki do pobrania
Potrzebujesz dokumentów do innego produktu? Odwiedź naszą bibliotekę techniczną.
przejdź do biblioteki
Skontaktuj się z nami, by poznać cenę i dostępność produktu
Something went wrong... Please try again.
Wypełnij formularz swoimi danymi i wyślij zapytanie o RM50 Kotwa wklejana poliestrowa bez styrenu z prętami gwintowanymi do betonu
Twoje zapytanie zostanie wysłane do naszego działu sprzedaży. Prosimy wziąć pod uwagę, że nie jest to równoznaczne ze złożeniem zamówienia.