TFIX-8M Facade fixing with metal nail
Versatile hammer-in facade fixing with steel nail recommended for ETICS.
Features and benefits
Simple installation in all standard substrates (A,B,C).
Excellent plate stiffness (value 1.0 kN/mm) ensures smooth elevation surface and stable insulation system.
The long plastic overmoulding on the TFIX-8M nail minimises thermal bridging (value 0.002W/K), contributing to energy-saving benefits.
Unique nail design allows for high load-bearing capacities. This reduces the quantity of fixings required per square metre of insulation.
The shortest embedment depth at the maximum strength parameters
Pre-assembled expansion nail saves time and labour.
Can be used with additional KWL insulation holding plate, available in 90, 110 and 140mm flange sizes (recommended for soft insulation materials such as mineral wool).
Product information
Size

Product Code

Fixing

Fixture

Diameter

Length

Plate diameter

Recommended thickness

d

L

D

tfix A, B, C

[mm]

Ø8

TFIX-8M-095

8

95

60

60

TFIX-8M-115

8

115

60

80
Base material
Concrete C12/15-C50/60 (Use category A)

Solid Brick (Use category B)

Solid Sand-lime Brick (Use category B)

Hollow Brick (Use category C)

Vertically-perforated clay block (Use category C)

Hollow Sand-lime Brick (Use category C)

Lightweight Concrete Block (Use category C)
Applications
External Thermal Insulation Composite Systems (ETICS)
Polystyrene (EPS) boards
Mineral wool (MW) boards
Light wood wool building boards
Polyurethane (PU) boards
Cork boards
Installation guide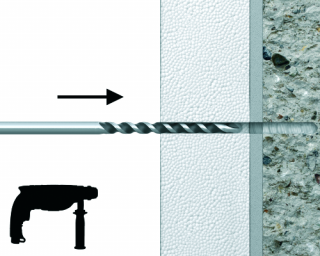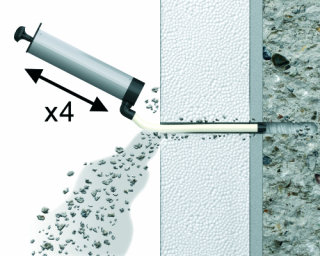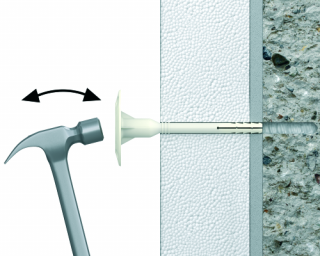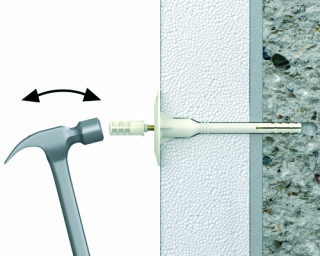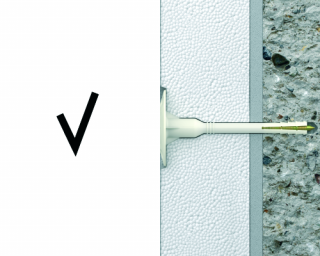 Drill a hole of required diameter and depth
Drilling depth of min 35-45mm in approved materials
Lightly tap the plastic sleeve through the insulation material into hole with a hammer, until fixing depth is reached and plastic sleeve flush with insulation material
Embedment depth of min 25mm in approved materials
Hammer the nail into the plastic sleeve until fixing is secure and flush with insulation material.
In soft insulation panels the fixing should be combined with insulation retaining plates KWL-90, KWL-110, KWL-140.
Installation data
Substrate

A, B, C

Hole diameter in substrate

d0

[mm]

8

Min. hole depth in substrate

h0

[mm]

35

Min. installation depth

hnom

[mm]

25

Min. substrate thickness

hmin

[mm]

100

Min. spacing

smin

[mm]

100

Min. edge distance

cmin

[mm]

100

Fixing diameter

d

[mm]

8
Downloads
Need documents for other product? Visit our Technical Library.
go to library
Skontaktuj się z nami, by poznać cenę i dostępność produktu
Something went wrong... Please try again.
Wypełnij formularz swoimi danymi i wyślij zapytanie o TFIX-8M Facade fixing with metal nail
Twoje zapytanie zostanie wysłane do naszego działu sprzedaży. Prosimy wziąć pod uwagę, że nie jest to równoznaczne ze złożeniem zamówienia.