R-XPTIII-HD Hot Dip Galvanized Throughbolt
Hot Dip Galvanized throughbolt for non-cracked concrete
Features and benefits
Increased corrosion resistance due to hot dip zinc protection layer with a thickness of 50 µm
Design of R-XPTIII allows drilling and installing directly through the fixture and helps to reduce installation time
High quality with cost effectiveness
Cold formed body ensures consistent dimensional accuracy
Approved for outdoor use according to EAD EAD 330232-01-0601-01
Product information
Size

Product Code

Anchor

Fixture

Diameter

Length

Max. thickness tfix for:

Hole diameter

d

L

hnom,red

hnom,std

df

[mm]

[mm]

[mm]

[mm]

[mm]

M8

R-XPTIIIHD08060/10

8

60

-

10

9

R-XPTIIIHD08065/1

8

65

-

1

9

R-XPTIIIHD08075/10

8

75

-

10

9

R-XPTIIIHD08080/15

8

80

-

15

9

R-XPTIIIHD08095/30

8

95

-

30

9

R-XPTIIIHD08110/45

8

110

-

45

9

R-XPTIIIHD08115/50

8

115

-

50

9

R-XPTIIIHD08140/75

8

140

-

75

9

M10

R-XPTIIIHD10080/10

10

80

-

10

12

R-XPTIIIHD10095/25

10

95

-

25

12

R-XPTIIIHD10115/45

10

115

-

45

12

R-XPTIIIHD10130/60

10

130

-

60

12

R-XPTIIIHD10140/70

10

140

-

70

12

M12

R-XPTIIIHD12080/5

12

80

-

5

14

R-XPTIIIHD12100/5

12

100

-

5

14

R-XPTIIIHD12120/25

12

120

-

25

14

R-XPTIIIHD12125/30

12

125

-

30

14

R-XPTIIIHD12135/40

12

135

-

40

14

R-XPTIIIHD12150/55

12

150

-

55

14

R-XPTIIIHD12180/85

12

180

-

85

14

R-XPTIIIHD12220125

12

220

-

125

14

M16

R-XPTIIIHD16125/5

16

125

-

5

18

R-XPTIIIHD16140/20

16

140

-

20

18

R-XPTIIIHD16150/30

16

150

-

30

18

R-XPTIIIHD16180/60

16

180

-

60

18

R-XPTIIIHD16220100

16

220

-

100

18
Base material
Non-cracked concrete C20/25-C50/60

Unreinforced concrete

Reinforced concrete
For use also with
Natural Stone (after site testing)
Applications
Cladding restraint
Curtain wall
Balustrading
Barriers
Handrails
Racking
Structural steel
Bollards
Installation guide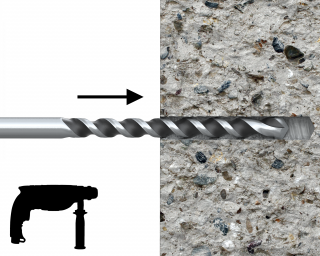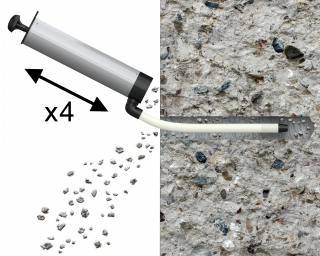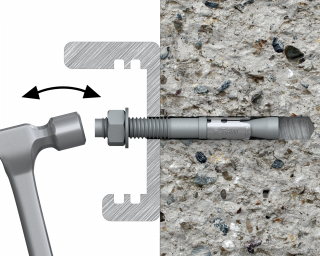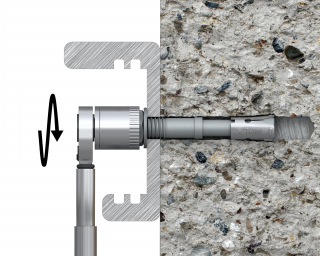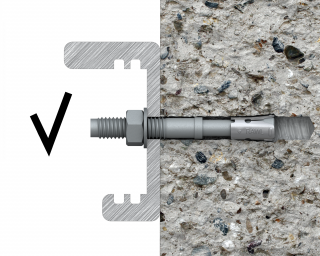 Drill a hole of required diameter and depth
Clear the hole of drilling dust and debris (using blowpump or equivalent method)
Lightly tap the throughbolt through the fixture into hole with a hammer, until fixing depth is reached
Tighten to the recommended torque
Installation data
Size

M8

M10

M12

M16

Thread diameter

d

[mm]

8

10

12

16

Hole diameter in substrate

d0

[mm]

8

10

12

16

Installation torque

Tinst

[Nm]

15

30

50

100

Wrench size

Sw

[mm]

13

17

19

24

STANDARD EMBEDMENT DEPTH

Min. hole depth in substrate

h0,s

[mm]

65

70

90

110

Min. installation depth

hnom,s

[mm]

55

60

80

100

Min. substrate thickness

hmin,s

[mm]

100

100

140

170

Min. spacing

smin, s

[mm]

50

70

75

95

Min. edge distance

cmin, s

[mm]

40

60

65

85
Downloads
Need documents for other product? Visit our Technical Library.
go to library
Skontaktuj się z nami, by poznać cenę i dostępność produktu
Something went wrong... Please try again.
Wypełnij formularz swoimi danymi i wyślij zapytanie o R-XPTIII-HD Hot Dip Galvanized Throughbolt
Twoje zapytanie zostanie wysłane do naszego działu sprzedaży. Prosimy wziąć pod uwagę, że nie jest to równoznaczne ze złożeniem zamówienia.