R-TFIX-TOOL-CSMBIT Replaceable TORX-BIT T40 for  R-TFIX-TOOL-CSM – 2 pcs.
TX40 Setting tool with integrated disc and perforator for countersunk installation of screw-in fixing R-TFIX-8SX
Features and benefits
User-friendly - enables fast and easy installation
Ideal design of TX40 bit perfect suited to the screw-in R-TFIX-8SX allows easy and stable installation
Integrated disc and perforator facilitates optimum R-TFIX-8SX countersunk installation, for the perfect flush with the surface of the insulation it is necessery to use additional insulation cap R-TFIX-CAP63.
Countersunk installation (with post-installed insulation cap) reduces heat transmission and results in a homogenous insulation surface.
Torx-40 bit type
Product information
Product Code

Bite type

Diameter

Length

d

L

[mm]

R-TFIX-TOOL-CSMBIT

T40

63

38
Applications
External Thermal Insulation Composite Systems (ETICS)
Polystyrene (EPS) boards
Mineral wool (MW) boards
Installation guide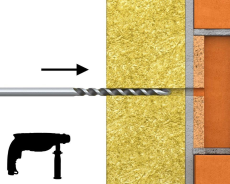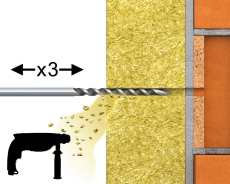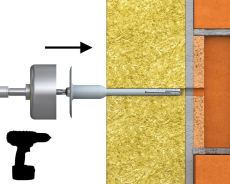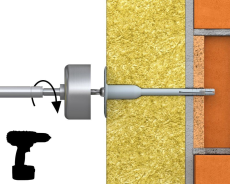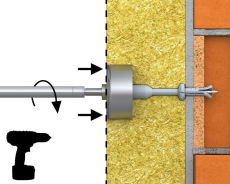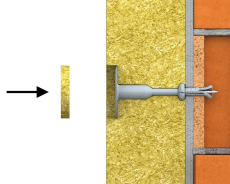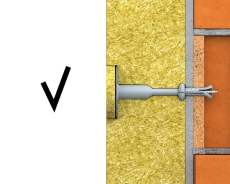 Drill a hole of required diameter and depth.
Drilling depth of min 35mm in A,B,C,D materials and 75mm in Aerated Concrete Block.
Clean drilled hole 3 times.
Insert R-TFIX-TOOL-CSM into recess in head moulding of R-TFIX-8SX screw.
Insert the fixing into the drilled hole.
Bottom side of the plate must be flush with the ETICS.
Embedment depth of min 25mm in A,B,C,D materials and 65mm in Aerated Concrete Block.
Apply steady axial pressure, ensuring the disc of the setting tool is kept perpendicular to the fixing axis.
Steadily drive in the screw with high revs until fixing is secure (when disc touches insulation surface).
Downloads
Need documents for other product? Visit our Technical Library.
go to library
Skontaktuj się z nami, by poznać cenę i dostępność produktu
Something went wrong... Please try again.
Wypełnij formularz swoimi danymi i wyślij zapytanie o R-TFIX-TOOL-CSMBIT Replaceable TORX-BIT T40 for  R-TFIX-TOOL-CSM – 2 pcs.
Twoje zapytanie zostanie wysłane do naszego działu sprzedaży. Prosimy wziąć pod uwagę, że nie jest to równoznaczne ze złożeniem zamówienia.