R-ORR-63/70 Zinc flake self-drilling screws for composite panels up to 18mm
Special zinc flake corrosion-resistant coating for highly effective protection
Features and benefits
Hardened screw's thread surface. High quality anti-corrosion coating guarantees resistance of 15 Kesternich cycles.
Coloured polyester protective coating with a thickness of 45-50 um (RAL, NCS, RR), provides additional protection against corrosion. Various colours available to suit all metal sheet variants. UV stabilizers ensure colour quality over a long period of use.
The shape of the thread and its height is designed for applications into sandwich panels and steel construction.
Two types of threads: one designed for mounting into a steel structure, second under head thread, prevents external panel dents and helps to seal the connection.
Self vulcanizing EPDM washer. Temperature and UV resistant. The special shape of the washer ensures proper seating of the sealing material on the outer cladding material fixture which guarantees a proper seal.
Special zinc flake corrosion-resistant coating for anti-corrosion protection
Drilling point - especially approach angle of self-drilling tip allows direct installation without predrilling up to 18mm
Product information
Size

Product Code

Screw

Fixture

Max. drilling thickness

Washer size

Diameter

Length

Head size

Max. thickness with washer

d

d1

l

S

tfix

-

-

[mm]

[mm]

[mm]

[mm]

[mm]

[mm]

[mm]

Ø6.3/7.0

R-ORR-63/70109A19

6.3

7

109

8

60

18

19

R-ORR-63/70129A19

6.3

7

129

8

80

18

19

R-ORR-63/70149A19

6.3

7

149

8

100

18

19

R-ORR-63/70169A19

6.3

7

169

8

120

18

19

R-ORR-63/70179A19

6.3

7

179

8

130

18

19

R-ORR-63/70199A19

6.3

7

199

8

150

18

19

R-ORR-63/70219A19

6.3

7

219

8

170

18

19

R-ORR-63/70249A19

6.3

7

249

8

200

18

19

R-ORR-63/70259A19

6.3

7

259

8

210

18

19

R-ORR-63/70269A19

6.3

7

269

8

220

18

19

R-ORR-63/70309A19

6.3

7

309

8

260

18

19
Base material
Structural Steel up to 18mm
Installation guide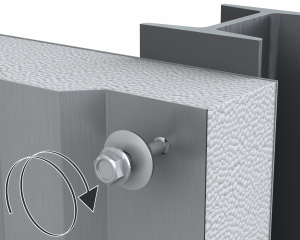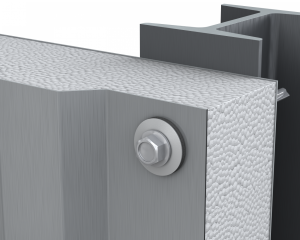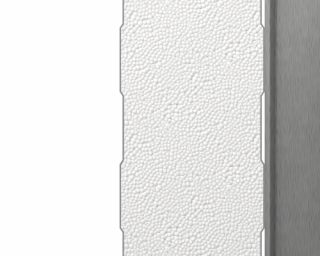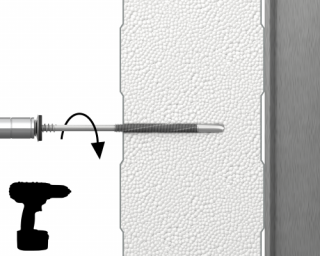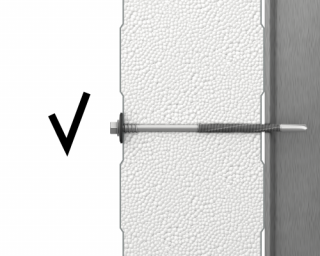 Screw must be installed at 90 degrees to substrate.
Magnetic driver must be used.
Lowest torque setting on impact screwdriver to start.
Reduce speed when the washer starts to deform.
Use a cordless Impact screwdriver. Note: Never use a power drill.
For installation please use screwdriver of load capacity 1600 - 2000 rpm with regulated trogue.
Installation data
Size

Ø6.3/7.0

Wrench size

Sw

[mm]

8

Min. substrate thickness

hmin

[mm]

8

Max. substrate thickness

hmax

[mm]

18

Min. spacing

smin

[mm]

30

Min. edge distance

cmin

[mm]

10

Screw diameter

d

[mm]

6.3/7.0
Downloads
Need documents for other product? Visit our Technical Library.
go to library
Skontaktuj się z nami, by poznać cenę i dostępność produktu
Something went wrong... Please try again.
Wypełnij formularz swoimi danymi i wyślij zapytanie o R-ORR-63/70 Zinc flake self-drilling screws for composite panels up to 18mm
Twoje zapytanie zostanie wysłane do naszego działu sprzedaży. Prosimy wziąć pod uwagę, że nie jest to równoznaczne ze złożeniem zamówienia.