Air Adapter R-NOZ-ADAPTER
Features and benefits
Enables precise cleaning of holes - especially in deep anchoring.
Uniform removes dust and dust from the hole.
Thanks to the use of a compressor speed up work.
Ideal for serial cleaning of deep holes.
Product information
Product Code

Size

Description

D

[mm]

-

R-NOZ-ADAPTER-14

14 - 20

Air adapter

R-NOZ-ADAPTER-22

22 - 26

Air adapter

R-NOZ-ADAPTER-28

28 - 50

Air adapter
Base material
Concrete C12/15-C50/60
Applications
For use in a wide range of fastening applications in concrete and solid masonry structures
Rebar missed-outs
Installation guide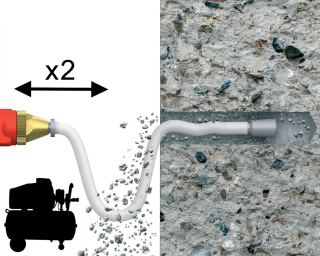 Select the right air adapter to the required hole size.
Connected adapter to the flexible hose insert in the hole, reaching the bottom.
The other end of the flexible hose connect to the compressor and start cleaning the hole with dust.
Clean the hole with compressed air starting from the drill hole bottom, blow the hole at least twice by compressed air minimum 6 bar.
Downloads
Need documents for other product? Visit our Technical Library.
go to library
Skontaktuj się z nami, by poznać cenę i dostępność produktu
Something went wrong... Please try again.
Wypełnij formularz swoimi danymi i wyślij zapytanie o R-NOZ-ADAPTER
Twoje zapytanie zostanie wysłane do naszego działu sprzedaży. Prosimy wziąć pod uwagę, że nie jest to równoznaczne ze złożeniem zamówienia.