GOK, GOK-N + WBT Roofing fixing system
Pre-assembled telescopic fastening system for concrete substrate.
Features and benefits
Impact-resistant material used ensures constant mechanical properties over the lifetime of a roof. Also, retains its properties over a wide temperature range. 

The lenticular shape of the plate ensures a firm pressure on the membrane and no possibility of dragging and deforming the plate during assembly
The cone's optimal shape facilitates speed and ease of installation through the thermal insulation.

Internal sleeve design allows pre-assembly with any Rawlplug roofing screw, shortening installation.

Hardened screw's thread surface. High quality anti-corrosion coating guarantees resistance of 15 Kesternich cycles.
The shape and type of screw's thread is designed specifically for connecting to concrete and wood. The drill point is designed to provide a fast and hassle-free installation. Sharp point of the drill prevents movement of the surface of the fixture.
The reduced diameter makes it easier to pierce the membrane and install in dense materials such as PIR / PUR and mineral wool
Pre-assembled sleeve with a screw shortens the assembly time, additionally it has a security in the form of a locking O-ring, which prevents the screw from slipping out.
Base material
Concrete

Concrete Slab

Timber
Installation guide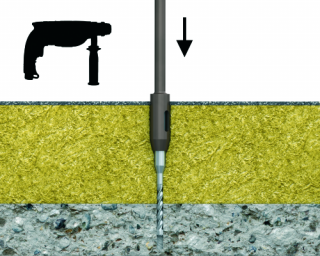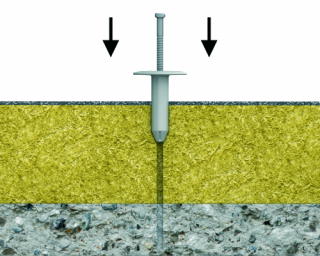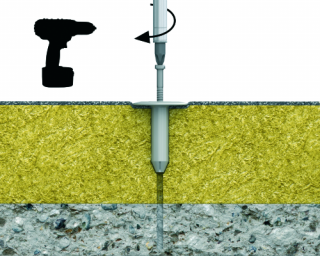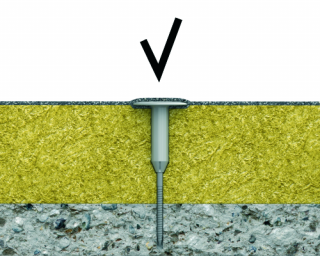 Drill the hole of required diameter and depth (where applicable)
Lightly insert plastic sleeve into insulation material
Using drilling machine, drive the WBT screw into substrate until fixing depth is reached
Downloads
Need documents for other product? Visit our Technical Library.
go to library
Skontaktuj się z nami, by poznać cenę i dostępność produktu
Something went wrong... Please try again.
Wypełnij formularz swoimi danymi i wyślij zapytanie o GOK, GOK-N + WBT Roofing fixing system
Twoje zapytanie zostanie wysłane do naszego działu sprzedaży. Prosimy wziąć pod uwagę, że nie jest to równoznaczne ze złożeniem zamówienia.